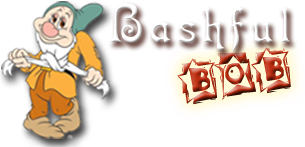 About the show
We are here to offer you the best music available no matter what the genre. Before we get to that, you may be wondering where the name "Bashful Bob" comes from. Well, one night my wife and I were watching Snow White and the Seven Dwarfs. When Grumpy made his appearance, my wife pointed to the screen and shrieked, "That's You". It's true. Even as a kid my favorite dwarf and the one closest to me in personality was Grumpy. However, I didn't think a website called, "Grumpy Bob", would draw a whole lot of listeners. So I went for my second favorite dwarf who is Bashful.
When you listen to the shows you will find that about half of them are genre specific and about half are of mixed genres. The songs and the order in which they are played are intended to create a specific mood or to convey a specific idea. Although the shows may seem to meander about a bit, on reflection I hope you find that they make sense.
In addition to the music, I have included a bit of commentary on the music, how it reflects on our current social and political climate, and how it's affected me personally. As more shows are added, I hope you see that they reflect a musical history of the twentieth century and my passage through it. Older listeners may find much of the music to be familiar. Younger people, especially those who grew up on rap and hip-hop, may find a lot of it to be quite different than what they are used to. The shows themselves, encompass every kind of music from grand opera to old-time grand ol' opry and everything in between.
This website is designed for those who are adventuresome enough to try something new and who want to expose themselves to new and different kinds of music. So if you're open to new experiences; click on a show; relax, and enjoy. There is also a play list for each show. Try listening to the shows before reading the play lists. After all, as my father used to say:
COLUMBUS TOOK A CHANCE.
Bashful Bob is Looking for the Following:
Songs:
1) Your Lips may say No No, but there's Yes, Yes in Your Eyes (With vocals)
6) The aria of the queen of the night from Act ii of The Magic Flute as performed by Anna Moffo.
7) I Still Miss Someone by Buffy St. Marie
Albums:
Jackie Oy! by Henry Morgan
VHS or DVD copies of the Following:
1) Nana Mouskari live from the Royal Albert Hall that was broadcast on Canadian Television in 1977 or 1978.
2) Merle Haggard live show recorded in Texas with Bob Wills in the audience. Broadcast on the Country Music Channel in the early 1990's.(Not to be confused with another Merle Haggard broadcast that took place about 10 years later)
3) George Thorogood live from Seattle. Broadcast on MTV late 80's or early 90's.
4) Fleetwood Mac live on MTV. Broadcast sometime in late 80's or early 90's.
If you have any of this material and are willing to send me a copy, please E-Mail me using the "contact us" link on the website.